A little bit about Us
We are IT Professionals who are truly passionate about what we do, as you can imagine, and as always happens with many other fields nothing assures you a successful career more than a combination of both, theory & practice, and in our case we can proudly say:
Full Stack Theory (from the Physical Layer of the OSI model to the Application Layer)
On Site/Field Practice (covering a wide range of companies and organizations)
We are proud to count with both, the theory and also the necessary practice, that allow us to be your perfect partner for your IT related needs.
Our Qualifications
We are committed to stay up to date with our vendor certifications, we count with Cisco CCNA, CCNP and CCIE.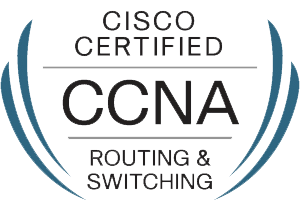 Cisco Certified Network Associated
Cisco Certified Network Professional
Cisco Certified Internetwork Expert *
*Written exam has been approved and working towards the practical part of the exam.
Cisco Certifications?